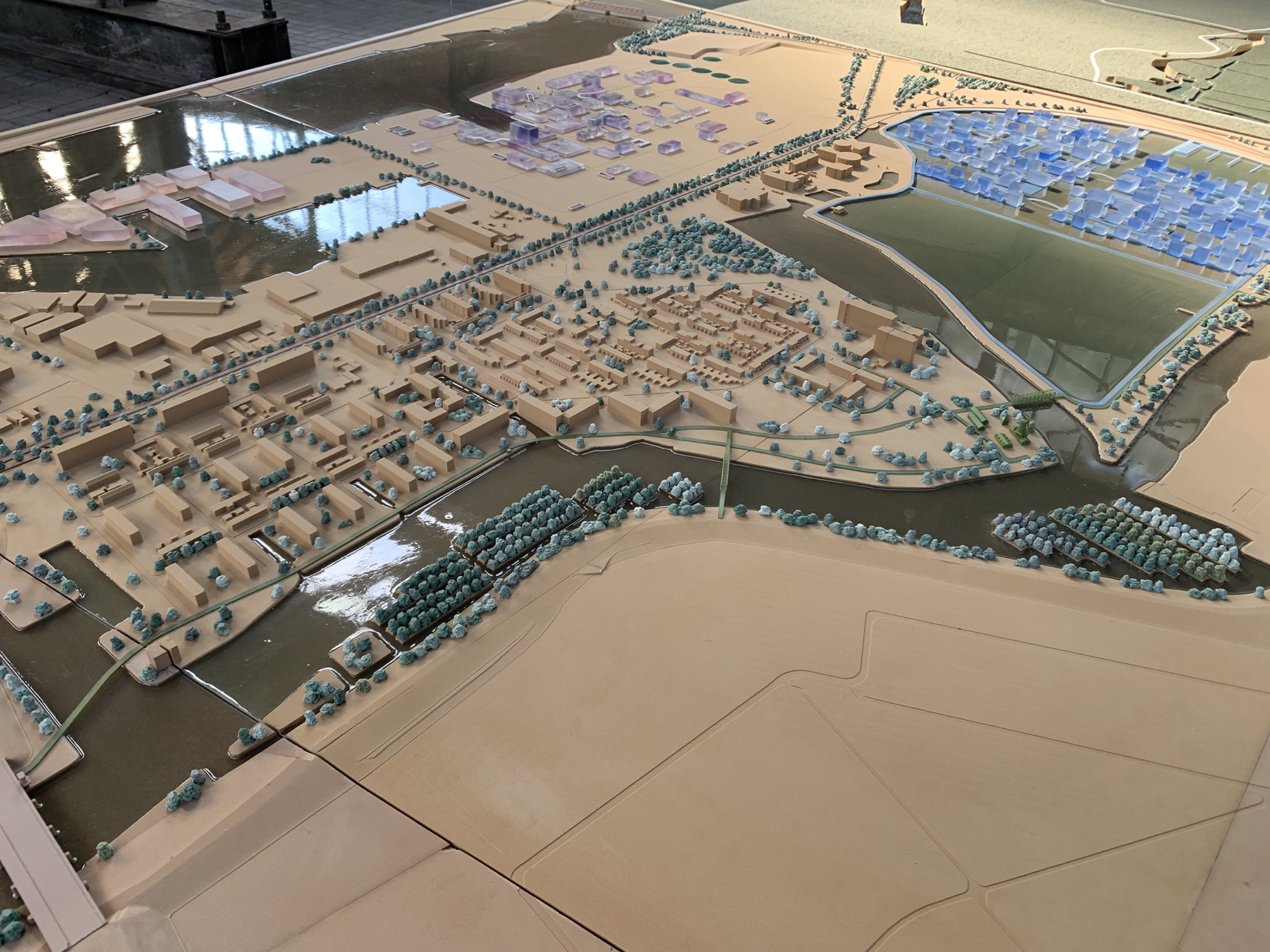 Spatial Framework as a Basis
Last update 09.12.2023
at
[15:44h]
Adriaan Geuze as studio master and the team of West 8 made the spatial framework for De Staart as a basis for possible future developments. The Framework contains substantive principles, whereby the landscape quality of the area determines the structure. Use was made of the unique position between the Wantij and the Beneden Merwede, and of the transition from urban area to the ecological main structure in the Biesbosch area.
Within the spatial framework, an urban exploration was made with which the requested program was examined in mass volume. A total of 1.3 million m² of gross floor area of buildings is needed for 7,000 extra homes, where 14,000 people can find shelter. To preserve the human scale, a building of a plinth with 4-5 layers was chosen, where in some places up to 70 meters high can be built. To the East, housing construction is decreasing, and activity is increasing; it concerns warehouse typology buildings in which multiple functions are possible now and in the future.
The housing is combined with the development of a regional tidal park. This tidal park functions as a recreational and cultural landscape and is at the same time an important location condition for potential new residents of De Staart as a high-quality public space. More attention will be paid to walking and cycling routes and the existing residential areas will be connected to the new Dordt-track: a route that runs from the center, via De Staart to the Biesbosch. In addition, there is plenty of attention for biodiversity by transforming the now mainly hard quays of the Wantij into nature-friendly banks. The water becomes more accessible, there is room for education and play.
Read More
The framework gives a new perspective on De Staart, as an area with a lot of potential, where people and nature work together. Instead of an isolated residual area of Dordrecht. De Staart is back with the potential to become an attractive area near the city centre. With new forms of living, innovative workplaces, sustainable facilities, and a special tidal park between the river Merwede and the Biesbosch.
Although the IABR studio has provided a new perspective, that is not the end goal. It is mainly about this perspective being used by the parties involved in working on their own and overarching assignments. These are, for example, the major tasks that are described in the environmental visions of the central government, the province, and the municipality. Only by working together can these parties create sufficient cloud to realize the perspective for De Staart. In addition, it is logical to do this from your own assignments.
In the meeting the participants discussed the upscalability on different levels (local, regional, and national level). This provided additional insights and opportunities to the MLS for Dordrecht in general and more specifically to De Staart. These insights will be used to the research program outline.